Psaltis Yorgos Bilalis visited Stavropoleos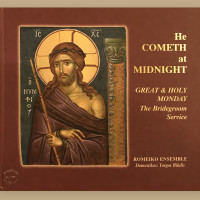 Greek psaltis Yorgos Bilalis, founder and director of Romeiko Ensemble, attended this past Sunday the Divine Liturgy at Stavropoleos, visiting afterwards our monastery and spending a few hours together with the community, discussing Byzantine music, the recovery of the manuscript tradition and music performance during the services.
Romeiko Ensemble was founded in 1993 in Philadelphia (USA) and is preoccupied with the authentic interpretation of the Byzantine, but also of the Ottoman music, recording new, unpublished medieval chants, preserved in old musical manuscripts. The same preoccupation with the recovery of tradition can be seen in the performance costumes of Romeiko Ensemble, Yorgos Bilalis seeking to recreate, together with costume designers, the vestments worn by the chanters before the fall of the Byzantine Empire; to this end, he used descriptions found in various treatises, but also images from manuscript miniatures and frescoes.
Yorgos Bilalis offered Stavropoleos community the last CD recorded by Romeiko Ensemble, Great & Holy Monday, The Bridegroom Service.