Monastic Community
Re-foundation of Stavropoleos monastery primarily meant the creation of a monastic community. With the high blessing of his Beatitude Patriarch Daniel, at Vespers service on Tuesday, May 27, 2008, four of the sisters of Stavropoleos Monastery were tonsured to nuns; they had been preparing for that moment for a long time waiting for the parish to regain its old monastic status.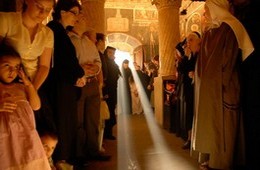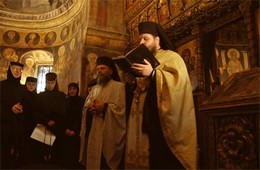 The tonsure services was officiated by Father Archimandrite Teofil Anastasoaie, the administrative exarch of Archdiocese of Bucharest and it was an event for the whole community who felt, for the first time, the emotions of such a religious service. For – as father archimandrite and cultural exarch Timotei Aioanei said in the Christian newspaper "Lumina" – the monk begins his journey through a deep and troubling dialogue showing that his decision is not taken for a year, it is not a contract, but an absolute option until his last life breath. The monk engages to the King of the ages and the One who knows our souls.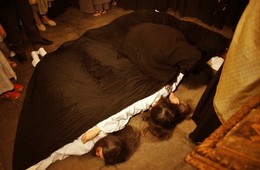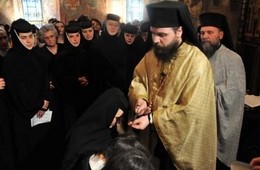 The nuns from Pasarea Monastery were present in large number to sing Open your Fatherly Arms, to give the answers together with Stavropoleos Psalmodic Group, but also to help the new nuns put on their monastic clothing. The tonsure includes the cutting of the hair – marking the quitting of their own will – and the receiving of the monastic clothing and marks: shirt, pectoral cross, paramandyas, the belt, the shoes, rasa, kamelavkion, the robe, the prayer rope, the cross and the candle.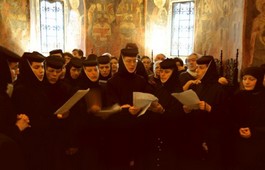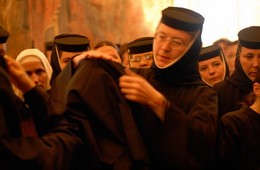 Together with nuns from Pasarea Monastery there were abbesses and nuns from some Oltenian monasteries (Jgheaburi, Surpatele, Govora, Arnota), closed to Stavropoleos monastic community. The Abbess of Jgheaburi Monastery, Mother Antonia, was the monastic godmother who took the sisters under her mantle.
Now the Stavropoleos monastic community has six nuns and a priest confessor.